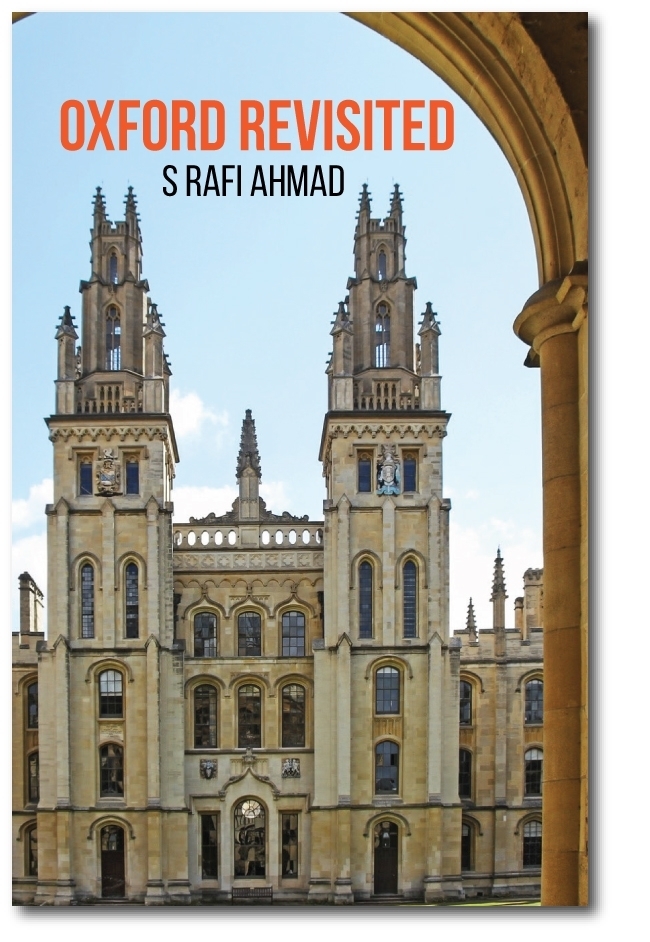 Oxford Revisited
Published: 2019
ISBN 9781079793512
Rolf, an enigmatic middle-aged German Jew, bewitched the author, compelling him to listen to amazing and often heart-wrenching stories of trials and tribulations of his life. Memories of the wild and eventful bygone days in the company of his amazing and amusing friend and his "stranger than fiction" stories provided the author with occasional intoxication with the "ecstasy of agony", embedded in those.
All these are intertwined with a brief social anthropological account of student-life at Oxford, experienced by the author, a starry-eyed Muslim freshman from the Indian subcontinent, thrown into sixty's explosive Cultural Revolution.
A chance encounter with an old friend of late Rolf, while he revisited Oxford after a long time opened up a floodgate of memories and gave rise to the suspicion – was Rolf really killed by a drunken motorist? This inspired him to write this docufiction.
Read Book Prologue here > view
Reviews for Oxford Revisited

Oriel Alumni – E-magazine (Sept. 2019)
Orielensis, Dr Sheikh Rafi Ahmad (DPhil Physical Sciences, Oxford University Alumni #8-10027999) has recently published a docufiction entitled Oxford Revisited, based on bewitching tales from one of Rafi's friends, and capturing the zeitgeist of time and social anthropological account of student-life at Oxford when Rafi was at Oriel during 1967-1971.

5.0 out of 5 stars – Wonderful book
Rafi has done a great service to those, like me who were at Oxford in the late 60's. He has brought memories back from that amazing time. Like him, I came up from Pakistan in 1965 to read law at St. Peter's College and spent the next 4 years in that city of dreaming spires. I can relate to so much Rafi has recalled. This book is described as a docufiction. It's hard to separate the two genders, the story is beautifully mixed. His life as a student is well described. I wonder if Rolf is a fictional character but the story around him is very interesting.
I recommend this book to anyone who is interested in how life was in the sixties and particularly university life for students from the Indian sub-continent. We lived in turbulent times, Vietnam war, assertive socialism, Bertrand Russell, Tariq Ali and Enoch Powell!
Oxford Revisited will take you back to those times. It is a personal recall but well worth sharing, even for generations that followed us. The book is a page turner  – Afzal Mufti

A wonderful chronicle of the time and a beautiful tale of the writer's student life
It will be a long time before I forget this book. I find it hard to put this book into one category. It is more like five different types of books wisely blended into one. This is a wonderful chronicle of the time and a beautiful tale of the writer's student life intertwined with that of the Rolf. It is evident throughout this book that the writer is very observant, hugely intelligent and more importantly terrifyingly honest.
As soon as I started reading this book, I had an intense feeling that this book was to put a permanent mark on my mind. This consciousness solidified within me mainly because I could relate pages after pages of observations regarding many things that a new arrival would face in England. At the same time, I am happily prepared to study part of the book over and over again to be able to decide for myself the truth about 'Humanity' and the 'Origin of Consciousness'.
If you are a 'book-reading person' read this book for something different and enlightening. If you are not a 'book-reading person', read this book to see what you are missing out on.

Extraordinarily different literature
I thoroughly enjoyed reading 'Oxford Revisited' and I consider this one of the most fascinating books I have read. I truly thank the author for writing this story and for executing it with such brilliance. The story got my attention from the beginning as the narrator takes the readers to a very interesting period, 1960s Oxford as a young foreign student from East Pakistan (now Bangladesh).
The way he described his experiences is marvelous as we see the world around him which is new and interesting but is also cold and harsh at times, especially his experience with the new culture and people especially, Mrs. Capper, his first landlord. How he gets accustomed to his new surroundings and learns to survive makes it a very compelling and interesting narrative.
The way he introduces us to the main character, Rolf is very well thought out and carefully crafted. I can say the same for the other characters which are all real and it takes a great mastery and skills to be able to fictionalize real people while remaining truthful to the facts.
Rolf, a German Jew, is definitely very interesting and enigmatic with his keen interest in fine arts and music and young women, but he is also deep which we learn through the development of their friendship when Rolf talks about his past and many interesting theories about modern man and how it uses primitive instincts…about cults and cave drawings as it relates to man and mankind. Quite thought provoking.
There is a great sense of humor to the author's story telling style and fine ability in character building but what was really impressive way the dramatic arc was maintained until the final act where we learn about the real truth behind the man, Rolf, who is he and why he had befriended a foreign student from South East Asia. Why he was able to open up to him and share some of the most intimate secrets and purge years of guilt and shame.
I also liked the pace as the story moved from one chapter to the next.
I would definitely recommend this book.